Matador was developed 1903,
and is without doubt the most legendary Austrian toy of all time. This toy, which uses wooden blocks and rods made from Austrian wood is more than an inspiring game: it promotes creativity and analytical spatial thinking and thereby creates a valuable contrast to the overuse of screens that we are seeing today. By fitting building blocks and rods together with a hammer, even young children can learn manual skills through play. Confidence and creativity are automatically promoted.
Children learn while playing, rather than play to learn.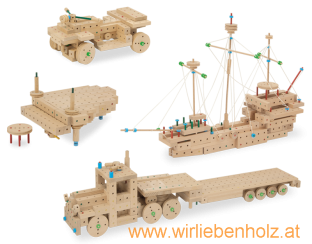 Matador has seen numerous generations grow up and Matador is therefore particularly pleased to be able to continue the tradition and to offer customers a high quality Austrian toy.
Matador is a toy that does not just have a unique quality but is also educational. A toy that, by complying with all existing safety requirements is completely non-toxic, environmentally friendly and of a high quality.
Matador Wood Construction Kits are made from copper beech wood,
only through local production Matador can guarantee this high quality. Particular attention is placed on the customer service. Matador has a replacement part guarantee that is unique for this industry.
The packaging is part of the product, which helps to protect the environment, and the accompanying or imprinted parts list serve as a simple completion check.
The continuity of the product range is also always guaranteed.
The Matador Wood Construction Kit is now as it was then, the toy of our children.